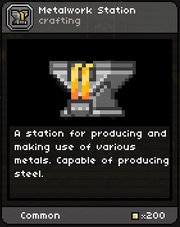 "A station for producing and making use of various metals. Capable of producing steel."
Obtaining:
Edit
Crafted at Crafting Table.
With Metalwork Station you can craft all that you can make with your normal Anvil, but you can also make a Starmap Upgrade which upgrades your ship engine and allow you to flight into beta sector.